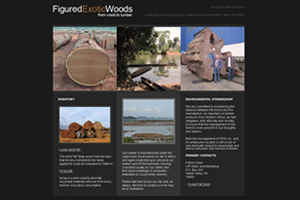 SalesKite Launch
Figured Exotic Woods
Figured Exotic Woods needed the ability to use the website as a constantly working information gateway. Therefore it was crucial for them to be able to update texts, images, files and other details themselves without recruiting a costly html programmer. Keeping customers informed on the latest news and arrivals, also helped attract potential customers who saw live and often updated website.

Utilized features:


Implementation of custom made professional website design


Content management system with access to all the texts, files menus and other on the site


Login & my account features together with page access level management


Manageable meta data for each individual page, search engine optimization


Custom java script management for external applications, counters & analytic


Multiple administrator logins with back end SSL encryption & various administrative privileges
Eva Grace is focused on selling aprons and accessories through the internet, craft fairs, and commercial expos for retailers. Their specialty designs are manufactured in the United States to insure quality as well as secure American jobs. They have chosen SalesKite to develop their website with e-commerce integration.

Utilized features:


Implementation of custom made website design and HTML code


Content management system with access to information through easy to use WYSIWYG editor


Shopping cart with diverse cc payment methods, built in charge backs & unlimited items


Login & my account features for customer access to track orders and see personal data


Substitutes, replacements & associated items in the store


Volume & customer discounts as well as all the order documents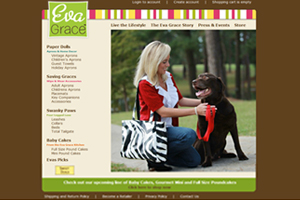 SalesKite Trade
Eva Grace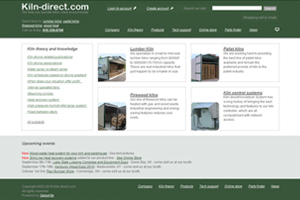 SalesKite Custom
Kiln-direct.com
Kiln-direct produces pallet and lumber kilns for heat sterilizing and curing wood products. As Kiln-direct found it's niche in the market for delivering small turn-key kilns to the industry, it was swept along in the current of new international requirements for heat treating solid wood packaging materials. They initially needed web-based Contact Relationship Management with accessed from nearly anywhere with a comprehensive communication history for each contact. They also needed inventory and order handling system, procurement with integrated costing for each product.

SalesKite helped them to achieve all of the above goals and continued updating the core code with full financial integration features, CMS, email integration, VoIP phone system for a truly flexible work force, virtual faxing, e-commerce, merchant account for orders, shipping and much more tying it together with the website.